Bill Russell Design is located in beautiful and artful Marin County, California.
You can contact us by phone at 415.491.9734 or email.
Tell us about your project here.
Take a look at our new winery site prototype.
Here is a recent site redesign for painter Marshall Crossman.
"Bill Russell created the website I have longed for but never thought I would have. He took the time to understand the specific needs and goals of my small business and to listen to my ideas. Throughout the design process he invited my feedback, obsessively attended to the smallest detail and interjected his own whimsical artistic flair into his work, thereby ensuring that I ended up with a website that I love" -Margaret Bourne, Speech Therapist, San Rafael
Creativity at your Service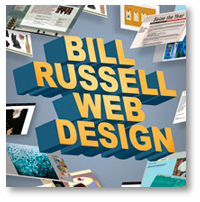 Bill Russell Design is a graphic design and website development company in Marin County, California. Bill has a passion and expertise for the art of telling a story and solving problems from a unique point of view. Bill will work with you to discover what is clear and memorable about you and your company's narrative. From marketing to graphic design, to technology and web development, he brings substance to your brand. He will also help you extend your branded message through the use of social media. Bill and his design/developer team provide expert design, content management, marketing and front-end programming for websites, blogs and mobile devices with a quality assurance that's both professional and personal.